Dr. Simon O'Brien
MD, RCPSC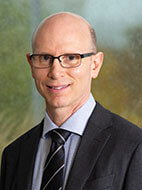 Position(s)
Contact Info
752 King St. W., Kingston, ON K7L 4X3
---
Dr. O'Brien completed his residency in Family Medicine in 1995 and then went on to complete his Psychiatry residency at Queen's University in 1999.  He is currently the Psychiatrist in Chief and Chair of the Medical Advisory Committee of Providence Care Hospital.
Dr. O'Brien has clinical expertise in adult psychiatry with extensive practice in the areas of schizophrenia, mood disorders, anxiety disorders, ADHD, psychotherapy and forensic psychiatry. 
He is a former member of the Consent and Capacity Review Board.  Other areas of interest include medicolegal work providing expert opinions in medical negligence cases and outpatient forensic legal assessments. 
Dr. O'Brien is a prior recipient of the Faculty of Health Sciences Education Award and the PARO Excellence in Clinical Teaching Award.