Podcast - Psychiatry with an Accent - Episode 1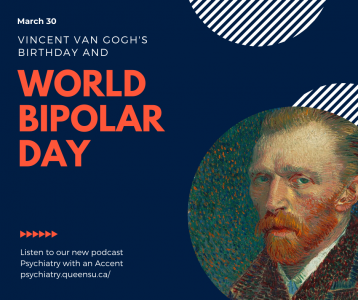 World Bipolar Day
On March 30, the world celebrates... Vincent van Gogh's birthday. But also, it is a day to raise awareness about Bipolar Disorder, a condition that affects around 1% of the world's population and that some specialists believe affected van Gogh himself.
To celebrate, we gathered two psychiatrists, a nurse, an undergrad student and a journalist at Kingston General Hospital (Kingston, Ontario, Canada) to discuss bipolar disorder and its impact on individuals and the society. Listen:
https://player.blubrry.com/id/57780303/
Psychiatry with an Accent is the new podcast of the Department of Psychiatry at Queen's University. We want to highlight the diversity of our team and establish communication beyond our walls, contributing to society's understanding of mental health.
We are excited to start talking about psychiatry with you, and we hope to get your feedback on what we're doing and what kind of topics you would like to hear more about. Thanks for being with us!