Dr. Tariq Hassan
MBBS, FRCPsych, FRCPC Psychiatry, FRCPC Forensic Psychiatry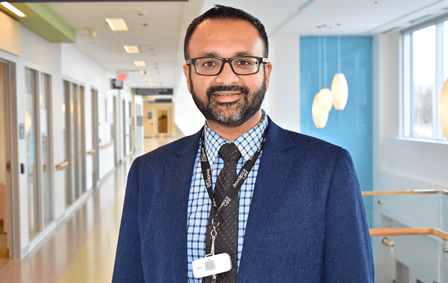 Position(s)
Associate Professor
Division Chair, Forensic Psychiatry
Contact Info
752 King St. W., Kingston, ON K7L 4X3
---
I completed High School in 1991 in Riyadh, Saudi Arabia and earned my medical degree in Nishter Medical College in Pakistan in 1998. I went on to complete my internship in Riyadh, Saudi Arabia in 2000. My wife and I moved to the UK where I completed the UK licensing exam (PLAB) in 2001. My psychiatry residency completed in 2005 and I worked as a senior registrar in General Adult Psychiatry in Birmingham for the subsequent 5 years. I was appointed to the rank of assistant professor in Psychiatry at Queen's University in August 2010. In 2017, I was subsequently promoted to the rank of associate professor and division chair for forensic psychiatry.
My interest in teaching began early in my residency. During ward rounds, I found psychopharmacology especially daunting but was too reserved initially to ask. After completing my Part 1 MRCPsych exams, I took it upon myself to create lectures in psychopharmacology for the junior residents in an easy to learn format. Thereafter I have been actively involved in teaching using face to face, telemedicine and internet based (Cisco's WebEx) media to provide teaching.
I am the founder of the mock psychiatry PDM course "The Kingston Course".