Dr. Pallavi Nadkarni
MD, FRCPC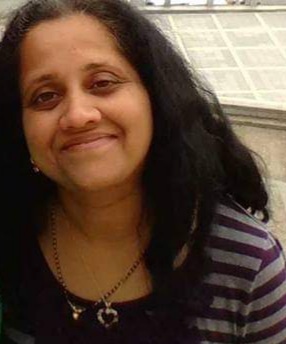 Position(s)
Contact Info
166 Brock St., Kingston, ON K7L 5G2
---
Remembering our beloved Pallavi (Dr. Nadkarni)
Dear colleagues, staff, trainees and friends
It is with deep sorrow that I reach out to share the heartbreaking news on the passing of Dr. Pallavi Nadkarni. Pallavi died on September 20 of brain cancer. I know this may sound quite shocking to most of you, as the course of her illness was so devastating that left us with very little time to process it or to say a proper good-bye.  
It has been almost ten years since Dr. Pallavi Nadkarni joined Queen's and the Department of Psychiatry. I am sure that those who had the privilege to work closely with Pallavi and get to know her well would endorse the statement that Pallavi always considered Queen's, our Department and Kingston as her 'home', her extended family.
Since the news of her passing, I received multiple, emotional testimonies of Pallavi's qualities as a beloved and knowledgeable teacher, colleague, friend. On a personal note, Pallavi was among the colleagues with whom I worked very closely when I first joined the Department in 2016. She offered me a warm welcome along with many delicious home-cooked meals in my first few months in Kingston. While working together in the Consultation-Liaison team at Kingston General Hospital, I witnessed first-hand her commitment to care, her strong advocacy for mental health support across medical and surgical wards and her thorough approach to education.  I also remember her inspiring enthusiasm for education, always encouraging her trainees and celebrating every single achievement they had - from a publication in a prestigious journal to a casual PowerPoint presentation that was well put together, well-delivered. She always made them feel special.
More recently, Pallavi had engaged in care for those suffering in the community; her most recent colleagues and co-workers had the opportunity to see her in action, exhibiting the same dedication and passionate advocacy. She was determined to remain clinically active, working tirelessly despite her recent diagnosis and the challenges imposed by the COVID-19 pandemic. And so, she did.
I am sure there will be plenty of stories and memories of Pallavi to be shared and celebrated by her colleagues and friends. I look forward to exploring the best way to share those stories and honour her life and contributions to all of us.
We offer our deepest condolences to her husband Shailesh, her family and close friends; we wish them strength to cope with such a tragic loss.
We are all heartbroken… but left with incredible memories of our beloved Pallavi.
Claudio